Books are the spark
When I was in early elementary school, I was lonely.  I was a gymnast and was training 6 days a week so no time for school friends.  I also loved school, loved learning, loved reading.  None of those things were particularly popular with the other 8 year olds.  I remember vividly the first time I picked up an Encyclopedia Brown book.  I found in him a friend.  I remember thinking that it was okay to know things.  It was even cool to be smart.  It was the first time that I vividly remember a book having an impact on my life.
Fast forward many years and many books later.  I was in university, having decided to become a math teacher.  I was set in my reading ways.  I read a lot, but I was stuck and stubborn in which books I chose to read.  Many times already, my best friend's brother had suggested Ender's Game to me.  I had refused, saying over and over that "I don't like science fiction."  (Though, looking back, I had never actually READ any science fiction!)  Finally, he was tired of suggesting it, bought a copy, and mailed it to me.  The note attached said something to the effect of "Now that I bought this for you, your Catholic guilt will make you read it.  You can thank me when you are done."  And I did.  I loved the book.  Ender's Shadow solidified it for me.  I discovered a new genre. Once again, a book taught me that I could love any book.  That I need to try things, even if I don't think I will like it.  That other readers know things too.  These books cracked open my reading world.
Skip forward another few years.  I had been teaching for a year, but had moved from high school to middle years.  Despite my awakening to any and all genres with Ender, I still had this mentality that I could only read adult books.  It was not, at the time as it is today, commonplace for adults to read teen fiction.  (Is it commonplace in the outside world, or is it just that I now surround myself with people who read #kidlit?!?)  I bought in to belief that adults don't and shouldn't read children's books.  I was teaching grade seven.  Harry Potter and Goblet of Fire was being released and there was a LOT of buzz about this series.  My students asked me if I had read any of them.  They wanted to talk books with me.  I hadn't and I felt like I had missed an opportunity to connect with my kids.  That day, I stopped by the library, got all three books that were out, and read them over the next week.  I went back the next week and had conversation after conversation about the books.  We talked about favourite characters, about plot, about good vs. evil, about our predictions for book four…  I went home and realized that so much learning, so many objectives (yes, they were called objectives at the time) were met in these informal conversations about reading.  I had connected with my kids and they were EXCITED to talk about their reading! I also realized that I enjoyed the books and was equally excited for the next book to come out.  I started asking the kids what they were reading and adding the titles to my own TBR (to be read) list.  We started having these conversations more often.  I developed great relationships with those kids; some that 15 years later, still endure.  It changed the way that I started thinking about reading.  I could read children's literature for enjoyment.  It also changed the way I thought about teaching.  It got me thinking about how tapping in to what kids are drawn to naturally can create such a different learning environment.  I had been given flint and steel, but the sparks were not yet flying.
Fast forward one last time to 2010.  I had moved from middle years down to grade three.  My focus had turned from math instruction to a passion for reading instruction.  I started graduate studies and joined Twitter.  I started reading research articles and lurking on Twitter, searching reading and teaching hashtags.  I came across a conversation about teaching reading between two people: John Schumacher (@MrSchuReads) and Donalyn Miller (@donalynbooks).  John was a school librarian from Illinois and Donalyn was a middle school reading teacher from Texas.  I liked what they had to say about reading in general and specifically about teaching reading.  It somehow awoke the flint and steel that had laid dormant for ten years.  It was like sunshine and rainbows to my teaching soul.  I had been growing more and more uneasy with the way that I was teaching reading and seeing more and more kids come to "hate reading."  I knew that things had to change.  I started reading their Twitter feeds (and those that they interacted with).  I started asking questions.  I started interacting on Twitter.  John sent me book recommendations as well as a few books too!  Donalyn helped me work through my jumbled hammering of ideas to help form my little sparks.  Imagine my embarrassment (and delight) when I found out that Donalyn had written a book about that exact topic!!!  I ordered it right away.  I devoured it.  I remember sitting in bed with tears rolling down my face feeling like I had found home.  I remember feeling the spark and support I needed to take my feelings about teaching reading and put them into practice.  It is amazing that finding a piece of literature which supports your philosophies can give you the strength to go ahead with it.  I started changing things in my classroom.  I started lending out the book.  I now own my fourth copy of the book (the first three have found new homes) as well as her second book Reading in the Wild.  I have continued to follow John and his blog Watch. Connect. Read.  I changed the way that I taught and have now moved in to the Teacher-Librarian position to further this passion.  This book solidified for me the idea that just like with teaching in general, readers and learners are made through connections and relationships.  Readers and learners are made through choice.  It is okay to not like a book.  It is okay to read comics, and magazines, and graphic novels, and non-fiction, and picture books…  Kids learn when they are excited about the topic.  Teachers should listen, learn, guide kids to books and validate, whatever the feelings and challenges are.  This book led me to my #nerdybookclub community, my #WOWtribe, and my job.
If books are the spark, people are the kindling
These books changed me.  However, I don't think that I would have been able to sustain that change or continue on this journey for the last five years without the people with whom I have forged relationships during this time.
Twitter has been an amazing resource for me.  My Twitter community started very virtually.  It started with finding John and Donalyn (whom I have yet to meet IRL (in real life), but hope to one day) and grew to the virtual #nerdybookclub community.  This is a community of adult readers, many of whom are in contact with students through the education world, but not all, who read, share and talk about what they are reading.  They share book and author recommendations.  They share ideas.  They share support.  It is an amazing community of readers.
After a while, I started longing to connect with people IRL.  I started meeting and connecting with people in my grad studies classes (via Twitter).  It was nice to connect on Twitter then actually talk in person.  However, it wasn't until my last two grad studies classes, which I took as a summer institute, that I found my tribe.  I used to call them my #WOW (Wine on Wednesday) group.  We met once a month to share, support, encourage and discuss teaching.  We share what we are doing, seek advice for things we are struggling with, offer support for ideas we want to try and help make plans of action for things we want to do but aren't sure how to get there.  We are a group of teachers that span grade levels, teaching experience and interests but we have one thing in common: we want to become better teachers for our students.  It wasn't until Sylvia Duckworth posted this sketchnote on Twitter that my WOW group became my WOWTribe.  They really are my tribe.
With the change in my teaching, something also changed in my school.  Conversations started.  I found in my colleague Natalie Mitchell, who was also doing her Master's degree, an ally and a philosophical peer.  We started having planning sessions. We started collaborating.  We started sharing; between ourselves and with others.  Then, more people came on to the scene.  I have found a collaborating family at my school.  My current position as Teacher Librarian has allowed me to expand that collaboration tenfold! Again, as with my WOWTribe, we span a variety of backgrounds and grade levels, but we share the philosophy that we want to try new things for the betterment of our students.  I believe that our students have benefitted from that philosophy.
And of course, the #saskedchat crew.  We connect virtually each Thursday night.  The topic range from things I am passionate about (like this coming Thursday's chat about Literature, libraries and librarians – join us!) to topics with which I have little to no experience! We have connected in person through my WOW meetings, through edcamps, and even collaborative projects that started on Twitter and have moved beyond these virtual walls.  Look!  I'm even blogging again because of these connections!
Let's start a fire!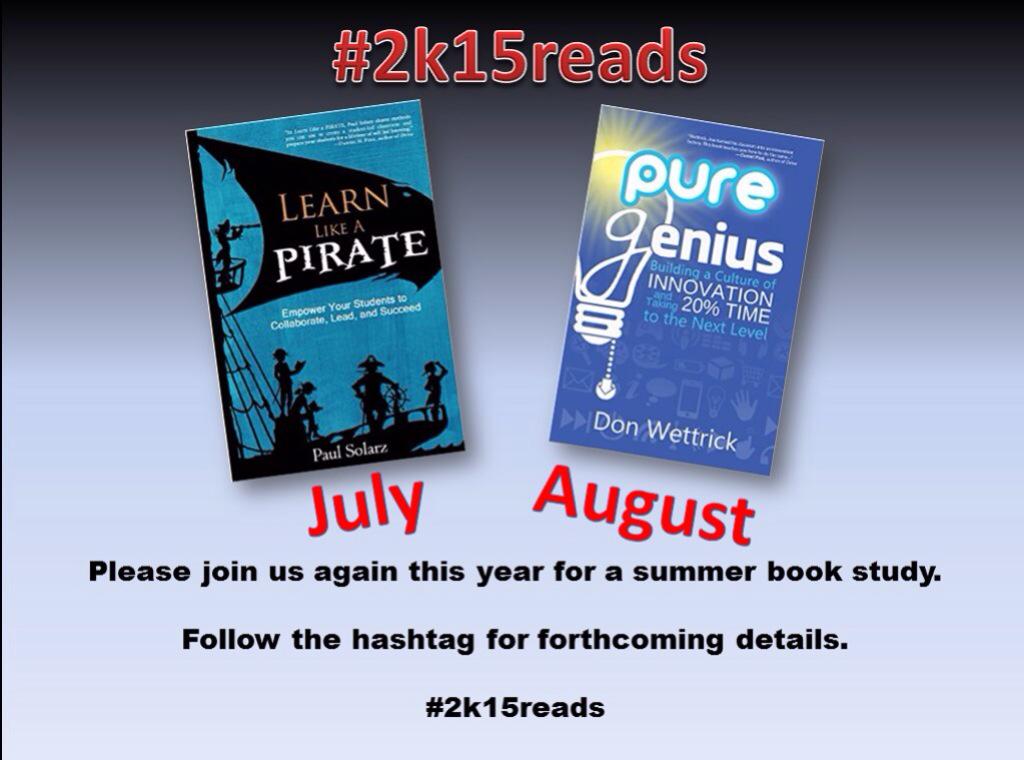 So, after a novel of a story, what ignites my fire are books and relationships. Reading and sharing and learning together.  I continue this journey this summer with the #2k15reads summer book club.  We are reading Learn like a Pirate by Paul Solarz (@PaulSolarz) and Pure Genius: Building a Culture of Innovation and Taking 20% Time to the Next Level by Don Wettrick (@DonWettrick).  I encourage you to join in the conversation.
I also encourage you to check out the #saskedchat summer blog challenge and summer chat topics HERE.  Don't worry about missing a few weeks here and there.  Jump in when you can.  Blog when you can.  If there is one thing that I've learned by undertaking this challenge, it is that we do what we can, we contribute what we can, and all our small contributions can create big change.
---
4 responses to "
What sparks your fire? #saskedchat summer blog challenge week 2

"